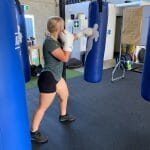 Tell us a little about yourself (i.e. work, hobbies) 
I am a business owner and lash and brow professional. If I am not walking Kai my German Shepard, hanging with family or out with my partner Ed drinking coffee at the local cafe… I am here lashing and waxing!  That is me in a nutshell!
Where have you come from in your fitness journey? (i.e. where did it all start? What was your motivation, do you have any injuries that you have had to work through?)
All of my life I have felt intimidated to go to a gym and I felt really insecure working out. Due to my mental well-being and lack of energy a year a go I started taking my fitness seriously. Eating better, doing outdoor activities and working out with my partner in our garage.
Since working out I have never felt better! I found the courage to step out of the comfort of my home gym + my comfort zone, and meet like minded people by coming to Anchor boxing.
What is it like to be in one of Hayley's classes?
It's been years since I've been in the gym on a regular basis and as a beginner boxer Hayley makes me feel at ease with her confident, happy, warm nature!
I enjoy Hayleys classes so much! You get a full body workout! They are fun full of energy and you'll get a laugh or two!
I leave every class sweating! Feeling in high spirits and itching to come back!!
What would you say to a new person wanting to get into Anchor Boxing?
Take a rest day the day before! ???? Don't make the mistake I did on my first day and prepare for a full body workout! You will sweat! There's   nothing more empowering then when you learn new moves focus in on the boxing bag and start to release all that energy! Can't wait to see you at Hayley's class!